A question that comes whenever a group wants to play a round of golf is, "how do you putt on a golf simulator?" It's a fair question; the simple answer is that you can putt the same way you would on an actual putting green, but that's not always the way to go.
The GCQuad is incredibly accurate when it comes to ball speed, launch angle, and spin rate. It can accurately predict a ball that carries 300 yards to within feet, so it's not really that surprising that it can accurately measure a ball coming off a putter face with much less velocity and spin. The GCQuad actually even has putting specific measurements to help you work on your stroke.
The limiting factor on putting isn't so much the simulators capability as it is our ability to visualize how hard to hit that 40 foot putt without actually seeing a hole 40 feet away. With a little practice, people can hone this in but it definitely takes a little getting use to. Even still, we do recommend approaching the putting a few different ways to keep things fun.
Gimme Range
One option is to set a gimme range, and this is actually what the Foresight FSX 2020 software defaults to at a gimme range of 6 feet. Pretty simple; you putt until you make it or you get inside of 6 feet, after which, the next one is going to be conceded to you. The gimme range can be whatever you want it to be but 6 feet is typically a good jumping off point.
Auto Putt
Another great option is the auto putt. With this setting, once a player reaches the green, they are given the tour average number of putts that corresponds to the distance they are from the hole. So for example, if hit it to 8 feet, a tour player averages 50%, so you will have 1.5 strokes added to your score. This is a great option to speed up play and avoid the grinding over short putts, which let's face it, no one really enjoys in golf anyways.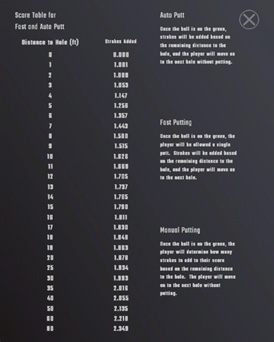 Fast Putting
This is a fun option if you want to get at least one crack at that 40 footer, but don't want to have follow up putts slowing you down. Players are given one putt once on the green. If the putt is not holed, a tenth of a stroke is added for every foot remaining from the hole.
Manual Putting
This is an interesting one. Once you hit it on the green, you just manually enter the number of putts to add to the score. At first, this may seem like a no-go as you probably don't want to get into it with your 20 hdcp friend every time they encounter a 15 footer that they believe is a gimme, but this can be a really fun option if you have side games going to determine how the total putts are calculated. Maybe it's rock, paper, scissors against a competitor to determine 1, 2, or 3 putts, maybe it's a cornhole board, or maybe for a partying group, it could be a round of flip cup.
So the question, "how do you putt on a simulator" doesn't quite have a straightforward answer. There are a variety of approaches and it really just depends on what the group is looking for, but with all the options available, there's something that can work for everyone.