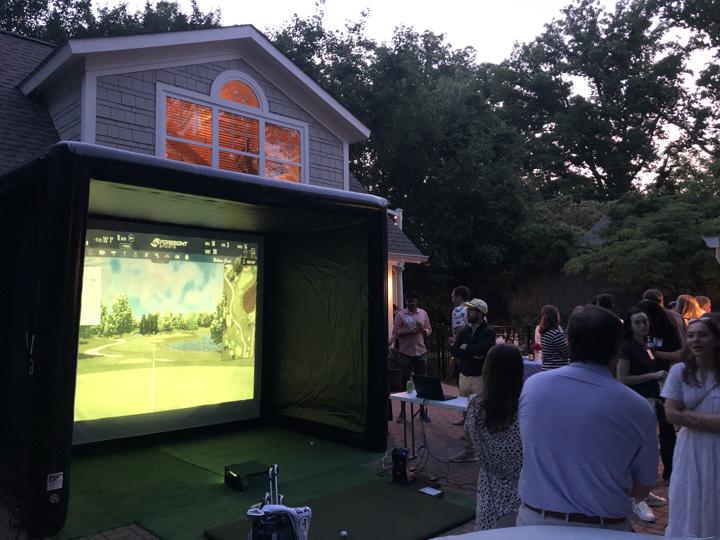 A question we get asked a lot is, "what do you recommend for our event?"
Every mobile golf simulator event is different and we can accomodate groups of all sizes, but here is a rule of thumb.
Adults
2-4 golfers: this is ideal for a bit of a warm up on the simulator driving range and then out onto a course of your choosing for a full 18 of stroke play. Just like a normal day on the course but from the comfort of your backyard.
5-8 golfers: this group is probably getting too big for a stroke play round unless everyone is focused. If Billy is going to keep wandering off inside the house, it's going to take a while to get everything in and will leave a lot of people waiting. Something that's a lot of fun at this size is a team scramble event. Break up in to 2-4 teams and make some friendly wagers.
9+ golfers: team scrambles are still great at this size, the only difference in recommendation being that the matches are ~3 holes and there is a bracket/round robin format. Another great option for large groups is setting up a closest to the pin, long drive, or some other skills challenge. Especially for large parties, this is a great way for people to walk up, enjoy the simulator experience, and then be able to go socialize with other groups without being tied down to an ongoing match.
Kids
For kids that are experienced golfers, they can easily fall into all the same categories listed above for adults. For kids that are newer to the game, Foresight has a Fairground platform that is more approachable. There are novice, intermediate, and advanced settings for each game, which range from darts, to balloon pop, to paint the all amongst others.
The distance of shot needed can be as short as about 5-10 yards so someone who is just getting into the game can enjoy and compete. It's a lot of fun for kids and even adults who want to change it up from the traditional golf experience.
If you have other suggestions of ways to use the simulator software, we'd love to hear it. Send us a note and let us know if we can help you in any way with your next event!