Raleigh is not only a hotspot for golf, but also for golf simulation. Here's a look at some of the top options in the area. **Group price calculated for 8 people for 4 hours – simulator rental + 1 drink per hour and food
Golftec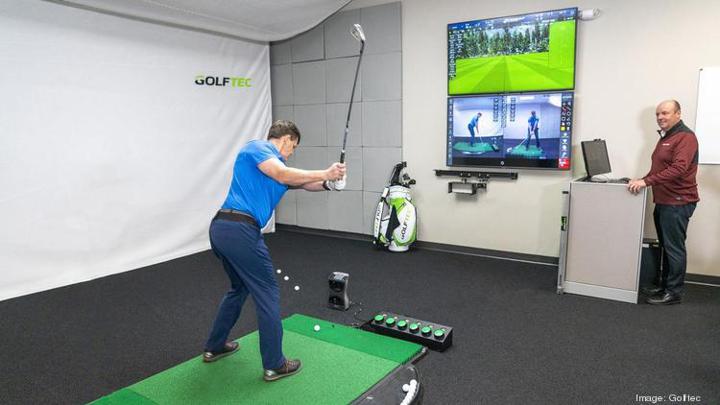 Technology: Foresight launch monitor and Optimotion system, which captures a 3D model of your swing. Golftec is able to capture many data points and you can nerd out all you want in an effort to improve your game.
Atmosphere: Lesson driven and improvement focused. If you want to get better, this is a great option. If you want to drink a couple of beers and chat with your buddies, this isn't the avenue for you.
Food and beverage: N/A – not a spot to go if you want to have lunch and a drink while you work on your game, but that's not who they're trying to be either.
Golf Simulator Rental Price: Two options – club fitting or swing evaluation – both are $125 for 60-90 minutes. Not the most cost-effective option, but you have a dedicated person on hand to interpret data and help you with your swing. Group price - not a spot for groups…
Overall: Golftec is a great spot to go if you are by yourself and looking to spend serious time improving your game.
Dogwood Country Club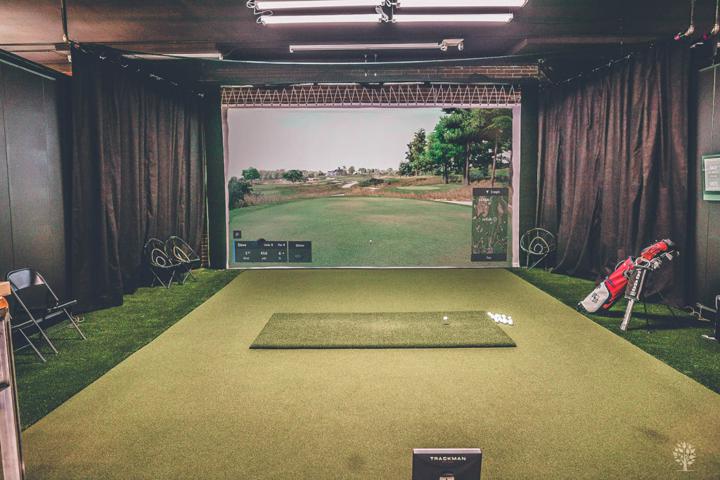 Technology: Trackman. An industry leader. Radar-based. This is a great system is used by a full stable of tour players. They also have Puttview which is amazing for mini-games, golf instruction, and more
Atmosphere: Boutique – some great products for sale in the "golf shop" side of things. Awesome décor and great local feel. They really nail the intimate country club vibe.
Food and beverage: Great list of craft beer and they've partnered with Tobacco Road on the food side. Something for everyone on the menu.
Golf Simulator Rental Price: $55 an hour indoor, $85 and hour indoor. Group price - $220 + $350 = $570
Overall: Awesome local business. Great place to work on the game and get to meet others in the area that are passionate about golf. 
Brookfield Indoor Golf and Lounge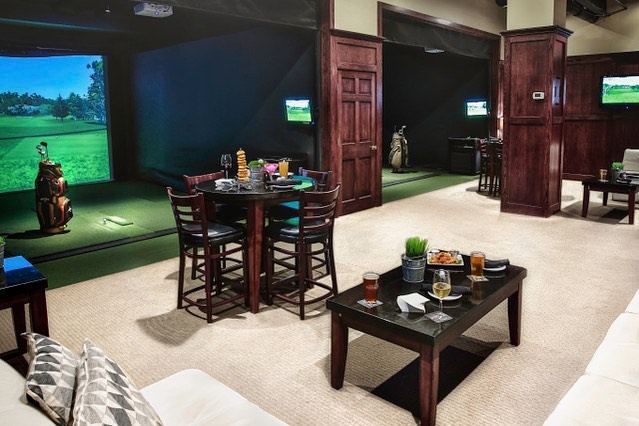 Technology: Full Swing Golf Simulators. Tiger endorses them and uses them…you're not better than Tiger.
Atmosphere: Great setting; open concept. Periodic live music and drink specials. Definitely bar vibes in all the right ways. 
Food and Beverage: beer and wine. No food but ok to order from elsewhere
Golf Simulator Rental Price: $40 per hour per bay + $20 per person over 6 people. Group price - $320 + $320 = $640
Overall: Great spot to socialize and play some golf while you throw a few back. 
Driveshack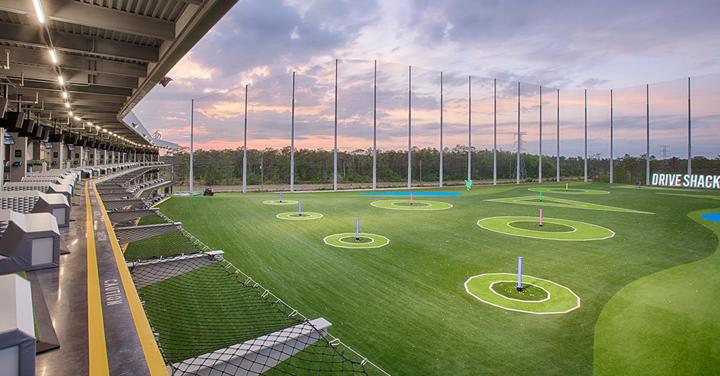 Technology: Trackman system – but needs a little asterisk here. Not quite the same caliber as the standard Trackman you'll find at a place like Dogwood. Some of the numbers that it reads off are a little funky (210 yard carry and 190mph ball speed?!) but if you are just looking for it to register what target you hit, it does its job.
Atmosphere: great family atmosphere and approachable for non-golfers. A great spot to take the kids or work friends who haven't played golf before. The games are geared to all skill levels.
Food and Beverage: Full bar and food menu. You can eat and drink as much as you can handle; just don't fall off the edge of the range!
Golf Simulator Rental Price: $45 per hour per bay (6 people max) Group price - $360 (2 bays) + $350 = $710
Overall: Great place to go have a drink and food and play some arcade-style games with golfers of all skill levels. They provide golf clubs if you don't want to bring yours. 
Wego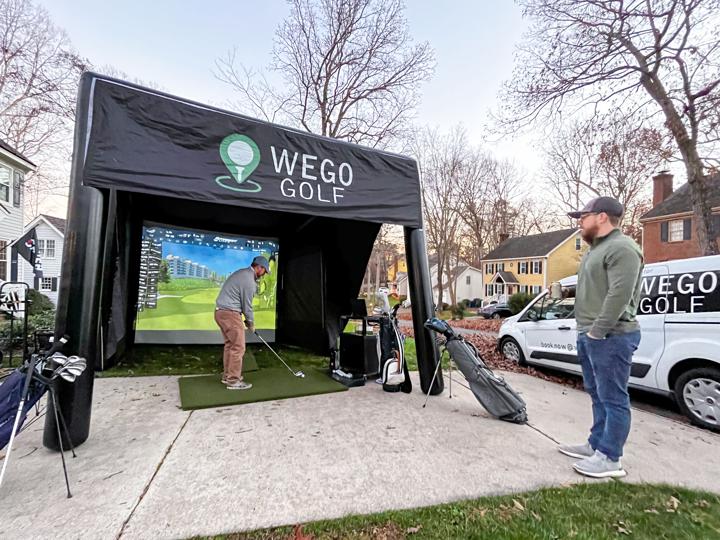 Technology: GCQuad launch monitor – used by numerous tour players. A top-of-the-line launch monitor with all the data points you could want.
Atmosphere: Entirely up to you! If you want to have a rager with some golf on the side,have a serious competition amongst friends, or host corporate events for your business. We will help you create the vibe you want. 
Food and Beverage: Again, entirely up to you! If you want to slam Milwaukee's Best or break out that bottle of MaCallan you've been saving; it's your call! 
Pricing: 2 hour event $429, 3 hour event $499, 4 hour event $599
Overall: A versatile and totally private option with reasonable fees. Dress it up or dress it down. Play championship courses, virtual games, or challenges. We bring the golf to your home. 
Partee shack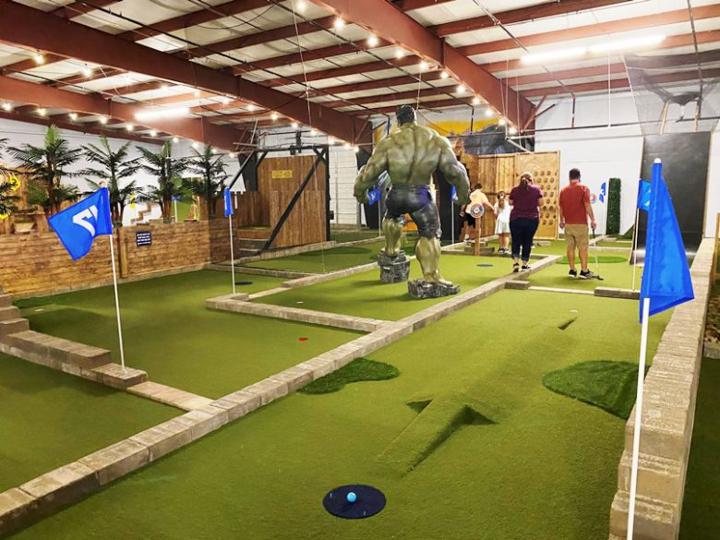 Technology: TruGolf – a great system that provides an array of stats.
Atmosphere: Partee atmosphere – geared more towards kids but something for everyone here. 
Food and Beverage: Decent array of beer and sandies. A little bit of a snack at the turn vibe.
Golf Simulator Rental Price: $45 per hour per bay. Group price - = $180 + $350 = $530
Overall: Cool concept and atmosphere. Great way to get a younger crowd interested in the game. And of course; they have an awesome mini golf course; which is the main draw here to begin with.